International Conventions

The 23rd International Symposium on Quality Function Deployment



September 7-8, 2017
JUSE,shinjuku office

, Tokyo, JAPAN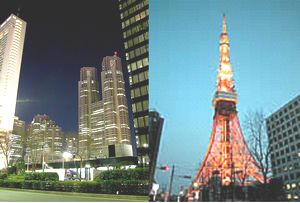 Dear Madam and Sir,

On behalf of ISQFD Organizing Committee, I am honored to invite you to the 23rd International Symposium on Quality Function Deployment in Tokyo, Japan, from 7th to 8th September 2017 at Union of Japanese Scientists and Engineers (JUSE).

This symposium presents an opportunity for the international community of various companies, researchers to come together to share knowledge and experiences. At ISQFD, a large number of case studies from various industries and regions, as well as high quality papers of theoretical research will be presented.

Tokyo, a world tourists and business destination at the heart of Japan, together with ISQFD 2017 organizing committee and I are pleased to welcome you in 2017. Let's take this opportunity to carry out discussions over QFD, where a number of high quality papers will be collected and presented from all over the world.
Kazushi Nagai
Chair, Organizing Committee of ISQFD 2017
Associate Professor, Tamagawa University
ISQFD2017 Presentation Programme
Presentation Programme Ver.3 is updated Sep. 4.
Please check your presentation schedule.

Click here to download the programme file.

Please fill in the Registration Form and send to isqfd2017@juse.or.jp
Click here to download the Registration Form
Registration Fee (including Banquet fee)
| | |
| --- | --- |
| Participant(s) | JPY54,000- per person |
| Presenter, Co-author(s) | JPY43,200- per person |
| Graduate student, student | JPY27,000- per person |
Cancellation Policy
Cancellation before 17:00 (JST) on Aug. 28, 2017: No cancellation fee.(the fees associated with the refund, such as bank transfer fee, and the postal charge for mailing the invitation letter and/or invoice will be charged.)
After Aug 28 17:00(JST) – on or before Sep 5, 17:00(JST): 20% of the participation fee.
On or before Sep 6 17:00(JST): 50% of the participation fee.
On or after Sep 6 17:00(JST): 100% of the participation fee.

Registration fees are requested to be paid in advance either by credit card or by bank transfer.
credit card:
Credit Card payment through PayPal
Bank account detail:
The Bank of Mitsubishi-Tokyo UFJ Ltd.
Shinjuku-dori Branch in Tokyo
Account name: Union of Japanese Scientists and Engineers
Account no: 0084317
SWIFT Code: BOTKJPJT
*Please note " ISQFD2017" and "applicant's name" on your remittance
Symposium Secretariat
ISQFD 2017 organizing committee
email:isqfd2017@gmail.com
ISQFD 2017 Web Site:http://www.juse.or.jp/english/conventions/isqfd2017.html

Union of Japanese Scientists and Engineers (JUSE), Shinjuku office
More information:
http://www.juse.or.jp/english/profile/access.html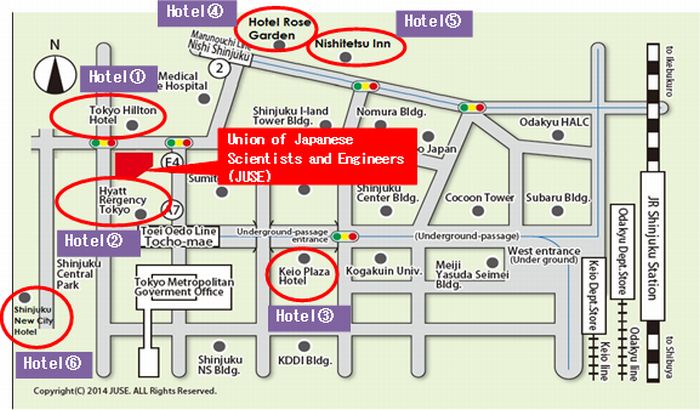 JUSE Shinjuku office is very favorably located about 7 minutes by walk from JR. Shinjuku station, and there are many hotels around the office.
We do not set your hotel in special price for ISQFD 2017. You can reserve a hotel at the lowest price by hotel's on-line reservation system. Please reserve your hotel by your own. Recently years, it is difficult to reserve the hotel by travelers increasing from foreign countries. So we recommend you to reserve your hotel in early time.
(1) Tokyo Hilton Hotel:
http://www3.hilton.com/en/hotels/japan/hilton-tokyo-TYOHITW/index.html
(2) Hyatt Regency Tokyo:
http://tokyo.regency.hyatt.com/en/hotel/home.html
(3) Keio Plaza Hotel:
http://www.keioplaza.com/
(4) Hotel Rose Garden Shinjuku:
http://www.hotel-rosegarden.jp/english.html
(5) Nishitetsu Inn Shinjuku:
http://www.n-inn.jp/english/hotels/shinjuku/
(6) Shinjuku New City Hotel:
http://www.newcityhotel.co.jp/en/