Past Report of the International Seminar on TQM
1. JUSE International Seminar on TQM – Tailor-Made Program for Shenzen Ocean's King Lightning Science & Technology Co., Ltd., July 24 – Aug. 1, 2014

Ocean's King is one of the leading manufacturers of top grade lighting products in China. 25 delegates attended the seminar which covered important subjects in TQM including Daily Management and Policy Management followed by industrial visits to the Deming Prize winning manufacturers.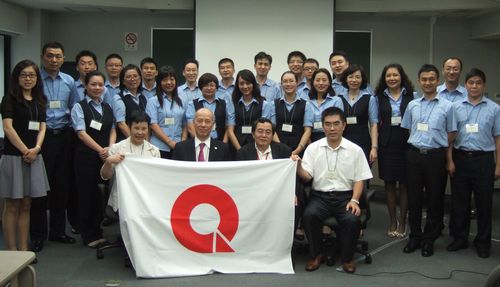 2. JUSE International Seminar on TQM, Dec. 1 – 5, 2014 (5-day Program)

14 executives and senior managers from Brazil, India, Taiwan and Thailand attended this intensive program to take advantage of the opportunity to learn from such distinguished lectures as Dr. Noriaki Kano, professor emeritus at Tokyo University of Science. As part of the program, the attendees also visited 2 plants of Japanese manufacturer, one of which was the Deming Prize winner Yaskawa Electric Corporation.