International Conventions
ICQCC'19-Tokyo Plant Visit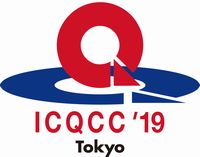 "Creating a brighter future through TQM and QC Circle activities"

September 23-26, 2019
Keio Plaza Hotel Tokyo, Japan
Foreign participants wishing to visit the Japanese companies are provided with a chance to see their workshops. The participants are divided into groups of maximum 30-40 persons for each company. A chartered bus and the sequential translation will be arranged for each group. Please indicate plant tour code and company name in the registration form. Registration shall be closed in the maximum application. Please note that some companies do not accept visitors from same industries. Therefore, the participants are requested to select the 2nd choice and leave its grouping to the Secretariat.
Tour Code
Company Name
Main Product
Brief Introduction
A


Application Closed

Hitachi Automotive Systems
Power train systems for passenger Car
Separated from mother company, Hitachi in 2009. One of Hitachi Group core companies, enjoying global no.1 share of airflow sensor.
B


Application Closed

Hitachi Construction Machinery
Construction equipment
One of Hitachi Group core companies, ranking 3rd largest globally in construction equipment with global no. 1 share of hydraulic shovels. Mother company Hitachi received the Deming Prize in 1955.
C
JFE Steel
Steel
Second largest steel manufacturer in Japan, ranking 8th largest globally. Two Deming winners merged in 2003, enjoying a challenging and innovative culture.
D


Application Closed

Komatsu
Construction/Mining Equipment, Industrial Machinery
Holding the largest share in domestic market, raking second largest in the world. Actively introducing smart construction solutions using ICT and quality management activities. 1964 Deming/1981 Deming Grand Prize Winner.
E
Konica Minolta Supplies Manufacturing
Chemical Products
One of the main subsidiaries of Konica Minolta which manufactures components of MFPs, printers, and printing systems (e.g. photosensitive drums, toners)
F


Application Closed

Nippon Steel
Steel
Largest steel manufacturer in Japan, ranking 4th largest globally. Will be able to observe dynamic steel production. 1951 Deming Prize Winner.
G


Application Closed

Press Kogyo
Auto Components (Frame/Axle/Cab)
Enjoying the status of domestic No. 1 share for frame and axle parts of a truck. Also holding 20% of global share for cabs of construction machines.
Participant(s): JPY10.800- per person
Separate registration is required. Application will close at maximum capacity.